Want another chance to win a shopping spree to
Simon Says Stamp
superstore?
CHECK out our challenge blog! It is so easy to enter, click on the flashing bar below to visit and get more juicy details....It's a Sketch theme this week!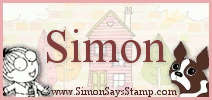 MORE GREAT NEWS!! Want to win this brand new released Simon Says Stamp set called
OH HAPPY DAY!??
The first 5 qualified people to enter the challenge with qualifying cards will win this stamp set! It's a Simon says Stamp exclusive and can't be found anywhere else! Hurry on over to the challenge blog and enter!
Luv,
Heidi
Pin It
SUBSCRIBE TO: This Blog | Our Newsletter
WE'RE SOCIAL: Facebook | Twitter | YouTube | LinkedIn | Pinterest | Google+
TAKE THE CHALLENGE: Simon Says Stamp Challenge! | Vintage Simon Says Stamp & Show Challenge